Aiello Sicurser can provide two types of high-speed rolling doors: folding or rolling.
The folding doors are usually matched to the classical doors, like the folding gates, the rolling shutters or the sectional doors, which can be open or closed during the working hours, in order to allow the frequent flow of people or vehicles at high speed.
The rolling doors are more and more employed thanks to the reduced-encumbrance system to divide and, if necessary, combine departments with different intended purposes in a quick and effective way.
On request, opening systems with remote control, dead-man or recognition system through radar, and floor and wall-mounted infrared light barriers are available.
Folding door
High-speed folding door
It is available with different size structures to let standard or big dimension vehicles pass through.
It is possible to manufacture this door for premises whose dimensions are wider than 100 m2, with a suitable resistance to the pression for the heaviest spaces.
It is always supplied with the necessary equipment for its installation, which guarantees functionality and the user's security
The high-speed doors are supplied with side motor, controlled by a 380 v-powered three-phase control panel, with pre-cabled electrical system, with dead-man motorization, security systems in the locking phase, certified with sensitive coast on lower edge and photocells couples.
All the doors are always furnished with a CE plate with a serial number, installation manual, use-maintenance-security and declaration of DoP Performance in conformity with the new Regulation on the Construction Materials 305/2011 CPR and in compliance with the harmonized standard EN 13241-1.
Certified product in compliance with UNI EN 13241
Rolling door
This type of door is the ultimate solution for those areas characterized by high traffic The flexible cover can return inside the guides automatically, if accidentally bumped, reducing the costs and intervention times Moreover, it presents a safe flexible lower edge (provided with security coast), in case of contact with people.
It is available with different dimension structures to be employed as internal divider or for external use.
The cover sliding system avoids any kind of waste for a perfect isolation among the spaces or between the inside and outside parts of the building. Wind load resistance is certified in Class 2.
Wide selection of colours or transparent elements.
These doors are supplied with side or front motor, controlled by a single (220 v) or three-phase (380 v)-powered control panel, with dead-man motorization, and they are designed for an intensive and non-stop work.
Push-button panel with "Opening – Closing – Stop" buttons
Matching with other locking system
Installation scheme with lateral motor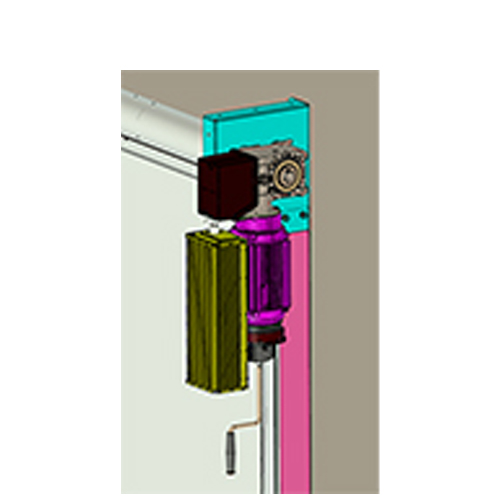 Useful in high-traffic areas
Self-repairing flexible cover that can return inside the guides automatically, if accidentally bumped
Supplied with side motor and with dead-man operation
Wind load resistance: certified in Class 2
Installation manual
Certified product in compliance with UNI EN 13241 standards