Rolling shutter with high-level performances and exclusive design.
FAST shutter can be installed in those areas characterized by a regular flow of people or vehicles.
It meets the requirements set by several uses, among which: frequently used external doors, doors installed inside work premises to stop draughts or to divide areas with different temperatures for energy saving.
The shutter is always supplied with a CE plate with a serial number, installation manual, use-maintenance-security and declaration of DoP.
Performance in conformity with the new Regulation on the Construction Materials 305/2011 CPR and in compliance with the harmonized standard EN 13241-1.
Features:
Fully manufactured curtain with insulated aluminium or steel elements
Protection belts for the sheet
Possible transparent portholes
Special side motorization which reduces the rolling times up to 1,5 m/s even for big entrances
Excellent thermal and acoustic performances
Minimum maintenance for a maximum lifetime
Materials and Finishes:
Insulated elements with expanded polyurethane
Pre-painted or plasticized steel or aluminium, as our sample book colours
Insulated elements with expanded polyurethane
Rolling shutter with motor (internal view)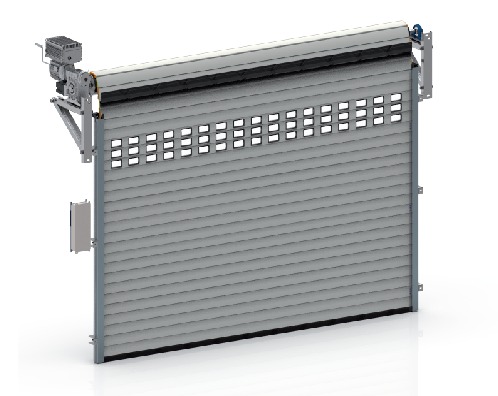 Rolling shutter with motor (internal view)