Strong window-like shutter, with great internal visibility, made up of profiled elements.
Transparent PVC slides can be applied on request.
The damper is always accompanied by a plate CE with reference number, installation manual, use – maintenance – safety and declaration of Performance in accordance with the new Building Materials Regulation 305/2011 CPR and in compliance with the harmonised standard EN 13241-1.
MATERIALS AND FINISHES
Steel finishes:
Galvanized steel (std) 8/10-10/10
On request:
Pre-painted / plasticized 8/10 galvanized steel

RAL colour powder coating

Stainless steel
FEATURES
Suitable for commercial premises where a high degree of visibility is required
High protection from unauthorized intrusion
Possibility of manufacturing it with profiled element
Installation manual
Certified product in compliance with UNI EN 13241 standards
EXAMPLES OF EQUIPMENT USED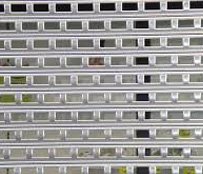 Detail in window elements
Window shutter with staggered portholes
Window shutter with porthole